ABDOMINOPLASTY
Tummy Tuck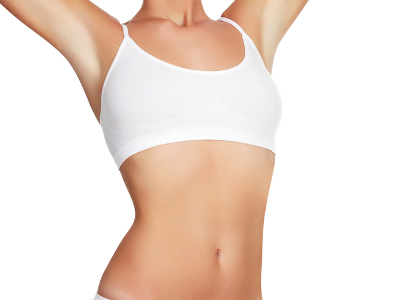 ABDOMINOPLASTY
Abdominoplasty, also known as a tummy tuck, is an operation that is designed to reshape the abdomen. Often, through weight gain and loss, pregnancies and aging, the skin stretches beyond its elastic limit or ability to return to normal shape. An abdominoplasty removes excess skin and fat while the underlying muscles that get stretched out are tightened. Typically abdominoplasty can be combined with liposuction of the flanks or "love handle" areas to improve the contour of the waistline. A tummy tuck is not a form of weight-loss surgery and candidates should be as close to their ideal weight as possible before undergoing this procedure. Individuals who are considered a normal body weight and are proportionate can still develop an abdomen that protrudes or has loose and sagging skin. This protrusion may be due to aging, heredity, pregnancy or prior surgeries.
CANDIDATES
Individuals with excess skin and stretch marks on their abdomen
Individuals with stubborn fat deposits on the abdomen
One with realistic expectations
Individuals with stretched out or loose abdominal muscles
One who is physically healthy and at a stable weight
Non-smokers
PROCEDURE
General anesthesia is administered for your comfort during the procedure. An incision is made in the lower abdomen along the top of the pubic hairline. This ensures that any apparent scarring can be hidden beneath clothing and swimwear. Once skin and fat are separated from the abdominal muscles, the muscles are tightened to obtain a flat contour like an internal corset. Excess skin and fat are removed, the belly button stays attached to the underlying tissue, a new opening is made for the belly button to be sewn in place and the incision is closed with sutures. The type of tummy tuck that will be used will be discussed during your consultation with your doctor so that the most appropriate technique is used for your body. Once the incision is stitched, gauze dressings are applied and an elastic abdominal binder is placed around your abdomen. Your tummy tuck will results in a flatter, firmer abdominal contour that is more proportionate with your body type and weight.
LENGTH OF SURGERY
Surgery will be approximately 3-4 hours as determined on a case by case basis. Typically this is done as an outpatient procedure, but an overnight stay may be necessary and will be determined by the surgeon.
RECOVERY, RISKS AND RESULTS
Tummy tuck surgery is performed as an outpatient procedure, but a short hospital stay may be requested. It is recommended you have someone stay with you for the first few days after surgery. You will be given detailed instructions regarding postoperative care and allowed activity levels. It is important to follow these instructions in order to minimize the chances of complications and maximize results. Compression garments should be worn to reduce swelling, and a temporary drainage tube will be inserted underneath the skin to drain excess fluid. You will be given a garment at the time of surgery. It may be necessary to purchase additional garments post operatively.
There are always risks to tummy tucks as with any surgery. Tummy tuck risks may include bleeding, infection, seroma, numbness, asymmetry as well as persistent pain. These risks and others will be fully discussed prior to your surgery. It's very important to discuss and address any questions you may have with your plastic surgeon.