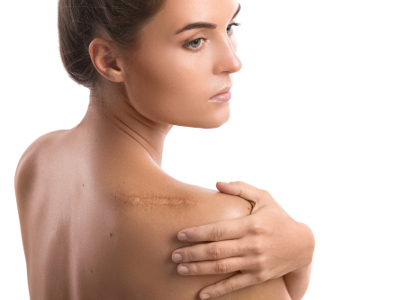 SCAR REVISION
Scar revision surgery is meant to minimize a scar so that it looks more consistent with your surrounding skin tone and texture. Scars, whether they're caused by an accident or by surgery, are unpredictable. A good scar is typically one that is thin, flat and closely matches your skin tone and your surrounding skin contour. Bad scars are ones that are raised, wide, thickened and much lighter or darker than your surrounding skin. It usually takes one year for a scar to fully mature. Initially scars can be brown or red, which will fade over time. The collagen remodels over time and the color changes. Scar revision surgery is a good option for people who have a scar that is raised, widened or even painful.
CANDIDATES
Scar revision surgery is something that should be done for your self, not to fulfill someone else's desires or to try to fit any sort of ideal image. Scar revision surgery can be performed on people of any age and is a good option for you if you are bothered by a scar anywhere on your body. Candidates must be physically healthy, non-smoker, have realistic goals for their scar revision surgery and should not have active acne or other skin diseases in the area being treated.
PROCEDURE
Scar revision surgery can be performed in multiple ways. The surgery consists of basically cutting out the old scar and sewing the scar back together in a more controlled fashion. Occasionally scars that are caused by trauma, that have had an infection in the wound or are located in an area of motion, can spread over time. These scars become raised or thickened and can be very unappealing. Occasionally scars have to be redirected in their orientation or a Z-Plasty where the scar is taken from a straight line or made into a zig-zag line to allow for motion of the scar or to increase length in the scar in an area that may be tethered or constricted.
Sometimes laser treatments including CO2 resurfacing and fractionated laser skin resurfacing can improve the contour of the scar and the remodeling of the scar. Laser therapy works by drilling very tiny micro columns or holes into the skin. This allows the body to produce new collagen in those areas. This can make the scar smaller, flatter, more pliable and more cosmetically appealing. Occasionally when a scar is dark or red in color, laser treatments can reduce the pigment or vessels that cause the redness in the scar to improve the appearance of the scar and make it less perceivable. When we evaluate scars to see if laser or additional surgery is necessary, the quality, contour and the age of the scars all come into play.
Occasionally we need to do multiple procedures or treatments for these scars. Thickened, keloid or hypertrophic scars can also be treated with pressure dressings, silicone sheeting, silicone dressings, injections of interlesional Kenalog or steroids to calm the scar down, flatten it and reduce redness and thickness.
LENGTH OF SURGERY
Scar revision treatment time varies, depending on the scar site and severity.
RECOVERY, RISKS AND RESULTS
The initial healing phase of scar revision surgery may take 8 weeks. Localized swelling, discoloration and discomfort should subside during this time. Healing will continue for several weeks and as the new scar heals, it will slowly fade over 1 year.
As with any surgery, there are some risks associated with scar revision surgery. Bleeding, infection, change in skin sensation, pain and skin discoloration and swelling are all possible side effects to this surgery. It is very important to ask Dr. Storck questions about your procedure.
The results of your scar revision surgery will be long lasting, but it may take several months to see the final results. As with any surgery, there is no guarantee. Additional surgeries or procedures may be necessary in order to achieve optimal results.