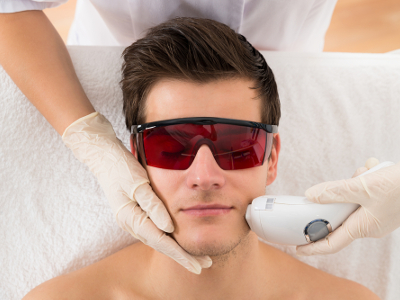 LASER SKIN RESURFACING
Younger looking skin is easier than you think with laser skin resurfacing. In just four to five treatments you can have a more youthful looking appearance with improved tone and texture of your skin. The laser skin resurfacing treatment rejuvenates the skin for a healthier, smoother appearance. Laser skin resurfacing improves a variety of skin conditions including fine lines and wrinkles, uneven skin texture and tone as well as sun damage. Achieve long lasting results without the pain or side effects associated with a more invasive surgery.
WHAT CONDITIONS CAN LASER RESURFACING TREAT?
Laser resurfacing treats fine lines or wrinkles around your eyes, mouth, and forehead. Individuals with shallow scars from acne are also great candidates for laser skin resurfacing. Laser skin resurfacing can also improve minor facial flaws, such as:
Fine lines or wrinkles
Aged or sun-damaged skin
Improve dull skin complexions
Scarring (surgery, acne, stretch marks, etc.)
HOW DOES THE LASER WORK?
This fractional technology uses microbeams of energy to create areas of effective tissue that extend through the epidermis into the dermis. This triggers the body's natural healing process to create new, healthy collagen. Following treatment, patients will see a reduction in fine wrinkles and age spots and will experience an overall smoother skin appearance. Laser skin resurfacing offers our patients the results they desire with quicker healing and less downtime.
LENGTH OF THE PROCEDURE?
The treatment takes between 30-60 minutes to complete depending on the areas being treated. A topical anesthetic should be applied 30 minutes before treatment.
ARE THERE RISKS?
Skin that's treated with laser resurfacing may react in different ways. Most of the time it feels like a mild sunburn. Swelling and redness will occur, but it will subside within a day or two.
On rare occasions, acne flares may occur. Cold sore reactivation may occur as well if you have laser resurfacing around your mouth. It is important to inform your doctor about your history of cold sores. You may be given an antiviral medication before and after the procedure to prevent reactivation.
Hyperpigmentation may become darker in tone. Your doctor may recommend a bleaching solution.
Milia, which are small white bumps may appear during the healing process. They can be removed by gently cleansing the area with a washcloth.
WHAT IS THE RECOVERY LIKE?
There is very little downtime with our laser skin resurfacing device. An ice pack may be used after the treatment and during the first day or two to ease swelling and discomfort. Generally, you will have little to no downtime from laser skin resurfacing.
You will have an improvement in both tone and texture, resulting in younger looking skin. Treatment plans can be adjusted to fit everyone's lifestyle.
IS LASER SKIN RESURFACING RIGHT FOR ME?
Laser skin resurfacing can be used on many different skin types, but it is best that people with active acne, very dark skin and those with excessive or sagging skin speak with a physician before being treated with laser skin resurfacing.
It may be appropriate for you if you experience mild to moderate signs of skin damage such as wrinkles, discoloration, and overall skin dullness.