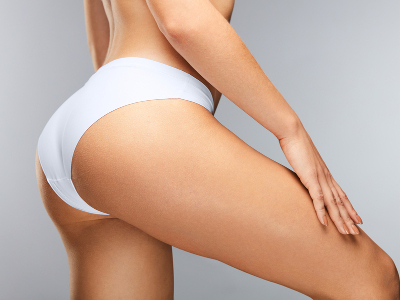 BRAZILIAN BUTT LIFT
Brazilian butt lift procedures are becoming increasingly popular – many women are embracing curves and hourglass figures. Those who are unhappy with the size, shape, or sagging skin of their butt can enhance the contours with a Brazilian butt lift. A Brazilian butt lift differs from a traditional butt lift because it uses a patient's own fat instead of silicone implants or removal of skin to enhance the butt.
CANDIDATES
Candidates for a Brazilian butt lift include those who are physically healthy, near their ideal weight, and have realistic expectations about their procedure results. Patients should want to add volume to their backside. Patients who want to remove excess skin may prefer a traditional butt lift or other body contouring procedures. You should also have tried to tighten and enhance the shape and size of your butt with diet and exercise before undergoing surgery. Candidates should also have enough fat in another area of the body to remove and transfer to the butt.
PROCEDURE
During a Brazilian butt lift, Dr. Storck will sculpt your body and remove fat using liposuction from other areas such as your thighs, abdomen and back. This fat is then processed to purify and injected into your buttocks. Enhancing the volume and shape can create a younger, lifted look for your buttocks, but it does not address excess, sagging skin. Because this procedure uses only your own natural fat it is typically safer than a buttock implant procedure.
LENGTH OF SURGERY
A Brazilian butt lift takes approximately 2 hours, depending on the area undergoing Liposuction and amount of fat being transferred.
RECOVERY, RISKS AND RESULTS
Most patients return to work about a week after surgery and gradually to normal activities within the four weeks. Risks involved with a Brazilian butt lift are low—but include contour irregularities and some fat loss in the buttock.
The result is a perkier, firmer, rejuvenated rear. Brazilian butt lift patients see more natural and subtle results than those who undergo traditional butt lifts, a procedure with more dramatic results. A traditional butt lift will slim the butt, while a Brazilian butt lift involves adding volume to the rear for a sexier, younger look. Results can last for many years if you do not experience massive weight fluctuations.