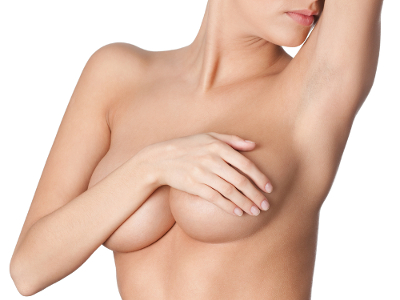 Breast augmentation, known as a breast enlargement or augmentation mammaplasty, can enhance the body contour of a woman who is unhappy with her small breast size. This procedure may also be used to improve the loss of breast volume following pregnancy and nursing or with aging. Additionally, the operation may help balance breast asymmetries. Major asymmetries may be improved, but will not be completely corrected with breast enlargement alone. Breast augmentation does not correct severely drooping breasts. Occasionally a breast lift (mastopexy) may be required in conjunction with breast augmentation.
CANDIDATES FOR BREAST AUGMENTATION
Individuals who have realistic expectations
Individuals are dissatisfied with their breasts losing shape and volume after pregnancy, weight loss, or with aging
Individuals have asymmetrical breasts
TYPES OF IMPLANTS
Saline
Saline breast implants are filled with sterile salt water. These implants provide a uniform shape, feel, and firmness.
Silicone
Silicone breast implants are filled with silicone gel. This gel feels more like natural breast tissue.
Gummy Bear
Gummy bear breast implants are form-stable implants. They maintain their shape even when the implant shell is broken. These implants are shaped rather than round and have more projection at the bottom of the implant and a gentler slope at the top of the implant.
PROCEDURE
A breast augmentation involves incisions made in areas that minimize visible scarring. The standard incisions that are used are periareolar (around the areola), inframammary (lower breast folds) and transaxillary (arm pits). Incisions are based on the type of breast implant being used, what size implant is being used, and the anatomy of the patient. Saline filled or silicone gel implants may be surgically implanted either above or below the chest muscle or below the chest muscle fascia. The method for inserting and positioning breast implants depends on the type of implant chosen, body type, and the degree of enlargement desired by the patient. Implants have various sizes, profiles, and shapes to meet the individual needs of each woman. Once the implants are placed, the incisions will be closed with layered sutures in the breast tissue. Skin adhesive or surgical tape may also be used to close the skin.
LENGTH OF SURGERY
Breast augmentation surgery takes a hour to one and a half hours. Patients will go home the same day of surgery.
RECOVERY, RISKS AND RESULTS
There are always risks with any type of surgery. The possible breast augmentation surgery risks include:
Bleeding
Infection
Changes in nipple or breast sensation
Wrong position of the implant
Implant leakage or rupture
Capsular contracture
Fluid accumulation
Wrinkling of the skin over the implant
During your breast augmentation recovery, your breasts will be covered in gauze dressings and a surgical sports bra. This will help minimize swelling and support the breasts during the healing process. Your physician will give you specific instructions that may include how to care for your breast post operatively, which medications to apply and take and when to follow-up with your surgeon.
A support bra should be worn 24 hours a day for the first four weeks. Sutures are normally removed between 7-10 days but most of the sutures are dissolvable. Patients are able to return to work within 7-14 days, but this is only for non-strenuous work. Most swelling, bruising and soreness is gone within 6-8 weeks and you're able to return to working out or strenuous activities in 4-6 weeks. It will take 8-12 weeks for you to finalize your new bra size and the scar will continue to fade for up to 1 year.
Breast augmentation results are immediately visible and satisfaction with your new image will continue to grow as you heal from surgery. It is important to follow your surgeon's post-operative instructions in order to achieve optimal breast augmentation results.